Manufacturing in such a way that the environment is protected as much as possible. This entails using the least amount of harmful chemicals and natural resources in the production process and improving production efficiency using the least amount of resources.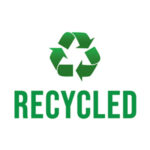 All across our manufacturing processes, we at Walletsplus ensure the utmost use and promotion of Recycled Packaging Materials including Recycled Corrugated Cartons and Polybags. Only Polybags, within the approved standards are used for packaging purposes.
We at Walletsplus ensure that we exceed all the minimum statutory requirements. We ensure the employee wages we pay allows them to be paid more than the minimum wage allowed and their working hours are reasonable and are less than the maximum allowed.
The threads, linings and interiors used for manufacturing are all eco-friendly materials that do not harm the environment and our society. We only use leather that is not harmful for human skin and that which has not been treated with harmful or restricted chemicals.